En ce jeudi tout gris, deux looks plein de couleurs et totalement décalés.
Je continue notre sélection Kiabi, avec du sportwear voir du homewear pour le look avec le short.
Tout commence en me promenant dans les rayons du magasin, j'aime bien la tendance sport. Le jog qui devient pantalon casual en quittant le stade pour investir la rue, alors quand j'ai vu celui-ci j'ai craqué (l'effet liseré doré sur le coté surement)
On this grey Thursday, 2 looks full of colors and completely mad
I'm pursuing our Kiabi selection with sportswear and home-wear looks 
I do like sport fashion and while I was browsing in the shop, the jog caught my eyes. Used like a casual trouser as if I was just leaving the stadium grounds to the streets…( with its golden glittery details on one side only). 
Je trouve que le fait d'avoir un chignon bun donne une touche glamour à l'ensemble.
The bun hairdo gives the whole a glamour feel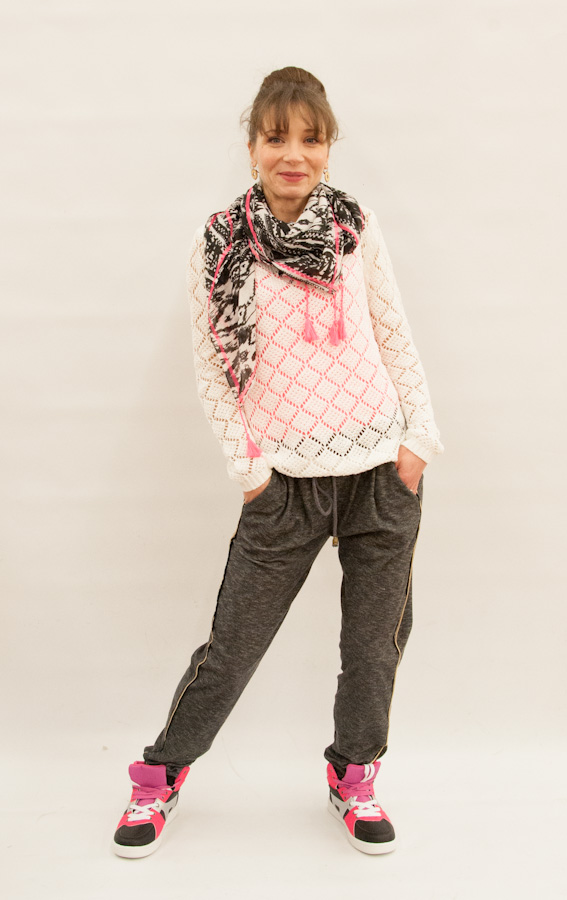 Et puis au fil de la promenade je suis tombée sur les baskets roses et noirs et surtout sur le short à pois,  j'ai eu envie de m'amuser et si j'ai bien fait rire Lelou et Maya avec mon look de joggeuse du dimanche biberonnée chez Barbie, j'ai inspiré Arlette.
Browsing some more, I stopped on a pair of pink and black trainers and a fun spotted shorty!! Not without Maya and Lelou laughters, I had such fun wearing this Sunday jogger look with a barbie twist: I created the look Arlette!!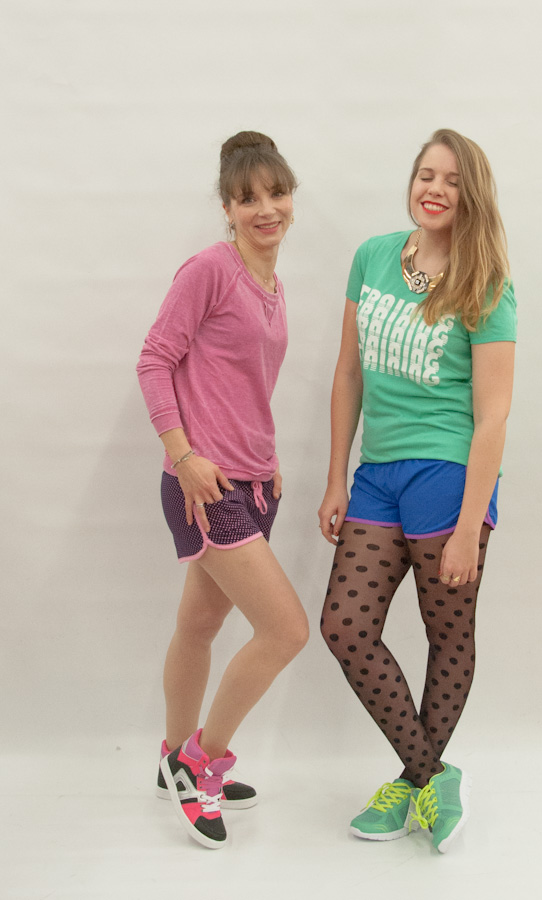 J'adore les collant à pois !!!! Si vous êtes en manque de couleur courez chez Kiabi.
Love the spotted thighs !! If you are lacking colours, I suggest you run to Kiabi!! 
Nous allons à Kiabi Pérols, j'en profite pour remercier l'équipe et son accueil chaleureux, mais il y a aussi Kiabi St Aunès, et surtout Kiabi en ligne.
We went to the perols shop and received a warm welcome from the team there, which I would like to thank very much. Alternatively, you can also visit the Kiabi St Aunés or Kiabi on line!! 
Bon shopping!
Happy shopping!!